Denarius D-15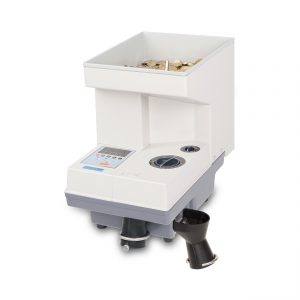 Automatic High Volume – Heavy Duty Coin Counter: The D-15 allows safe and precise high-speed counting of large coin batches in one feeding. It is the perfect solution for fast, accurate and reliable coin counting.
Counts a pre-adjusted quantity and stops after reaching batch size.
Integrated bag holders allow to directly store the counted coins.
An integrated auto feeding hopper drives the coins inside the machine for counting and sorting.
Specifications
* Basic Function: Accurate Counting And Adding
* Hopper Capacity: Up To 10000 Coins
* Processing Speed: Up To 3000 Coins Per Minute
* Coin Diameter: 14-34mm
* Coin Thickness: 1.0-3.5mm
* Batching: 0-9999
* Led Display: 6 Digit
* Power Supply: 220v 50hz/110v 60hz
* Power Consuption: 55w
* Dimension: 258×418×380mm
* Packing Demension: 350×490×440mm
* Net Weight: 12.5kg
* Gross Weight: 14kg
* Options: Customer Display, Off-Sort Bagging Attachment