Denarius D-6000
Compact Two Pockets Banknote Discriminator
QUALITY WITHOUT COMPROMISE
D-6000 compact multi-currency discriminator perfectly fits tellers operations with image processing technology.
Advanced multi-detection technology provides low reject rate and high acceptance as an answer to today's high security demands.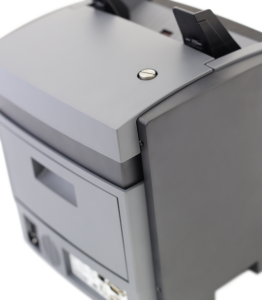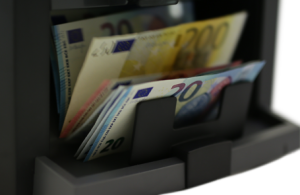 FEATURES
Multi Currency

Up to 8 currencies

Color LCD Display

Color TFT LCD and full graphic user interface.

Dual User

Two tellers share one machine with individual setting preferences

Easy Maintenance

Opening from top and rear bill path facilitates routine maintaining work

Compact Design

Compact in size and avant-garde in appearance

SD Card Upgrade

Basic and instinct way for system upgrade.

User Friendly

Full numeric key panel gives flexibility to set desired batch numbers and the combined functional keys provides an easier configuration setup.

Efficient

Extra reject pocket for smooth processing without interruption.

Accurate

Linear sensor and image processing technology.
SPECIFICATIONS
Feed SystemRoller Friction System
Counterfeit DetectionMagnetic, Infrared, Ultraviolet, and 3D.
Hopper CapacityMax. 500 notes
Stacker CapacityMax. 200 notes
Reject CapacityMax. 50 notes
Counting Speed600 Note/Min.
800 Note/Min.
1000 Note/Min.
Available CurrenciesUSD, EUR, GBP, LOCAL (OPTION), Up to 8.
Countable Note Size60 X 85 X 0.08mm ~ 100 X 190 X 0.12mm
Display3.5 Inch TFT LCD
Power supply100 ~ 240V AC, 50/60Hz
Power consumptionMax. 50W
Dimensions(mm)280(W) X 272 (D) X 282 (H)
Weight8.2Kg
InterfaceRS-232 X 2
USB X 1
SD CARD X 1
OptionsRemote Display
Thermal Printer