Denarius D-5000
Two Pocket Banknote Discriminator
PERFORMANCE THAT PLEASES USERS
D-5000 is designed for large volume banknote processing, optimizing the cash processing efficiency. Featuring sophisticated image processing technology, it provides a credible solution to various sorting operations.
With the remarkably low jam rate and precise authentication, D-5000 is durable as it is reliable. Your expectation with its excellent performance is guaranteed!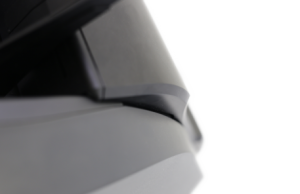 FEATURES
Accurate

Utilize impressive image processing technology, capable of superior high speed counting and processing multiple currencies separately on a single machine without restrictions.

Efficient

Provide tailored solutions to all sorting operations-3 modes of discrimination: Piece Count, Denomination Count, and Serial Number Count. The adjustable speed allows much more flexible for different sorting processing.

User Friendly

Sleek and ergonomic design equipped with large LCD display, provides convenient graphic user interface. Operators are able to apprehend quickly.

Easy maintenance

Easy jam removing, you can clear note path with easy access even without standing.

Durable and Reliable

Designed and produced in Taiwan, renowned for effective and long-lasting products

Color LCD Display

Color TFT LCD and full graphic user interface.

Dual User

Two tellers share one machine with individual setting preferences

Connectivity

Can be connected to printer or system through LAN; operator can print out serial numbers or all vital operating results of the processed banknotes.
Software upgrade could be done by PC, SD card, LAN.

Multi Currency

Up to 10 currencies

SD Card Upgrade

Basic and instinct way for system upgrade.
SPECIFICATIONS
Feeding SystemRoller friction system
Counterfeit DetectionCIS, Infrared, Magnetic, Ultraviolet.
Counting Speed1500 Note/Min.(Piece Count)
1200 Note/Min.(Denomination Count)
1200 Note/Min.(Serial Number Count)
Available CurrenciesUSD, EUR, GBP, LOCAL (OPTION), Up to 10.
Denomination DetectionContact Image Sensor.
Hopper Capacity500 notes (circulated notes)
Pocket CapacityMain Pocket Capacity
250 notes (circulated notes)
Reject Pocket Capacity Max. 100 notes (circulated notes)
Countable Note Size60 X 85 X 0.08mm ~ 100 X 190 X 0.12mm
Display3.5 Inch color TFT
Power Supply100-240V, 50/60Hz
Power ConsumptionMax. 150W
Dimensions (mm)330(W) x 330 (D) x 350 (H)
WeightApprox. 15 kg
OptionsRemote Display
Thermal Printer